Cardiovascular Disease Prevention Conference 2019
Saving Hearts and Minds Together
The sixth annual Cardiovascular Disease (CVD) Prevention Conference hosted by Public Health England (PHE) was held on Thursday 14 February 2019 at Manchester United Football Club. The focus of this year's conference was on scaling up CVD prevention to improve service impact and health care outcomes.
Plenary
Plenary speakers included:
Duncan Selbie, Chief Executive, Public Health England
Professor Steve Powis, Medical Director, NHS England
Dr Matt Kearney, National Clinical Director for CVD Prevention, NHS England & Public Health England
Dr Muna Abdel Aziz, Director of Public Health, Warrington Borough Council
Professor Jamie Waterall National Lead for Cardiovascular Disease Prevention & Associate Deputy Chief Nurse, PHE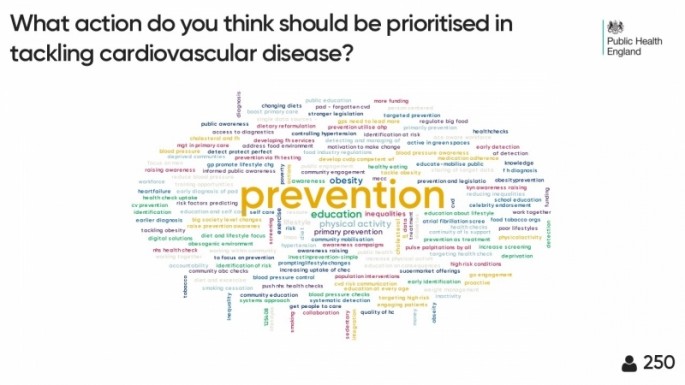 ---
Workshop one
1A Training:Using system mapping to inform the planning of whole system approaches to complex public health problems.
1B Discussion:Improving physical health in people with mental illness. Document found here. 
1C The secret life of cholesterol: detection, diagnosis and treatment.
1D NHS Health Check patient information: can it encourage behaviour change?
---
Workshop two
2A Training: Behavioural insights for intervention design. Find document here.
2B Discussion:Thinking outside the box: getting the most from the NHS Health Check programme. Find document here and here
2C Taking the tension out of hypertension: targeted approaches to reducing blood pressure. Find document here and here
2D Tackling CVD through shared decision-making:patients and clinicians working together.
---
Workshop three
3A Training:Communicating CVD risk. 
3B Discussion: Feeling the beat:detecting and treating atrial fibrillation. Find document here and here.
3C Healthier You: NHS Diabetes Prevention Programme: the journey so far. 
3D Facing the future: The role of digital technology in the NHS Health Check. Find document here. 
This year's poster award winners were Ruth Pell-Ilderton, Jane Bayley and Janette Brown from East Cheshire NHS Trust for their poster on community services working together to support patients with heart failure.
Setting the national scene and making the case for investment in CVD
Associate professor Jamie Waterall, National Lead and Deputy Chief Nurse, CVD prevention team, Public Health England
High risk conditions for CVD: high impact prevention in the NHS
Dr Matt Kearney, National Clinical Director for CVD Prevention, NHS England and Public Health England
A third way of achieving cardiovascular health
Professor David Wood, Professor of Cardiovascular Medicine, International Centre for Circulatory Health, National Heart and Lung Institute, Imperial College London
Health inequalities, mental health and CVD: breaking the cycle
Sarah Hughes, Chief Executive, Centre of Mental Health
Community mobilisation: the opportunities for CVD prevention
Jacob West, Director of Healthcare Innovation, British Heart Foundation
Page last updated: 16/10/2022