Cardiovascular Disease Prevention Conference 2020: proactive, predictive, personalised held in London at the Kia Oval on Thursday 6 February 2020. 
Plenary speakers included:
Dr Sarah Jarvis MBE - 

GP, Clinical Director at Patient and Media Medic

Clare Perkins - 

Deputy Director, Priorities and Programmes, Public Health England

Professor Stephen Powis - 

National Medical Director, NHS England

Dr Shahed Ahmad - 

National Clinical Director for Cardiovascular Disease Prevention, 

NHS England and NHS Improvement

Dominic Brand -

 

Executive Director, Marketing and External Affairs, Stroke Association

Eileen O'Meara - 

Director of Public and Environmental Health, Halton Borough Council

Professor Stephen Powis - 

National Medical Director, NHS England

Katherine Thompson - 

Head of Cardiovascular Disease Prevention Programme, Public Health England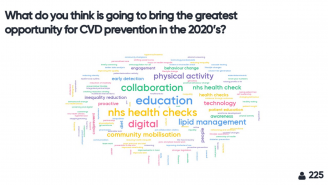 Workshop one
1A. Preventing 150,000 heart attacks, strokes and cases of dementia
NHS England and partners discussed activity and progress on the NHS Long Term Plan ambition, to prevent 150,000 heart attacks and strokes.
1B. Physical activity for the prevention and management of cardiovascular disease and other long-term non-communicable diseases
A talk from from partners who are working together to enhance physical activity levels to prevent cardiovascular disease and other long-term non-communicable diseases.
Ross Boseley
1C. Discussion. Using primary care data management systems to underpin action on cardiovascular disease
Within this round table discussion, we explored how enhancing primary care systems is a vital step in tackling cardiovascular disease.
Stuart Rison
1D. Training. Reducing health inequalities in hypertension: applying the Population Outcomes Through Services (POTS) framework
Professor Chris Bentley will lead delegates through the Population Outcomes Through Services (POTS) tool, specifically when considering how to reduce inequalities in hypertension.
Chris Bentley
Workshop two
2A. Novel approaches: taking CVD prevention to the people
Within this session we will explore the role of self-management in healthcare and hear how advances in digital and at home solutions is aiding this.
2B. Building the local picture: driving action on prevention using NHS Health Check data
Exploring the power of data in enhancing the NHS Health Check programme. This session will discuss the opportunities the national data extraction may have for enhancing local services.
Rebecca Clarke
2C. Discussion. Keeping the beat: increasing the detection of high blood pressure
Join us for this exciting discussion where we will learn from local areas on their efforts to increase detection of high blood pressure.
2D. Training. Optimising Anticoagulation for AF patients: lessons learned from the AHSNs
Join members of the Academic Health Science Network to unpick the challenges and opportunities for Optimising Anticoagulation for AF patients.
Sharron Gordon
Workshop three
3A. How to save 100 million lives from cardiovascular disease and prevent epidemics - learning from international partners
We are delighted to be joined by Dr Tom Frieden, CEO at Resolve to Save Lives – a global initiative that aims to save 100 million lives from cardiovascular disease and prevent epidemics.
3B. Supporting outcomes of the National Diabetes Prevention Programme and Healthy Living for People with Diabetes
Join colleagues from NHS England and Public Health England as we explore the early outcomes, management support and the role of digital technology in supporting the success of the national diabetes prevention programme.
3C. Discussion. Going for gold: enhancing the quality of the NHS Health Check Programme
Local government commissioners discuss their efforts in enhancing quality of their NHS Health Check programme.
3D. Information session. Attitudes to dementia and turning understanding into action
Session to increase awareness and understanding of dementia and its relevance to the NHS Health Check. Find out more about Alzheimer's Society's led Dementia Friends programme which aims to transform the way the nation thinks, acts and talks about the condition. 
Iain Fossey and Susan Mitchell
Vicki Simmons
Abstracts
The winner of the NHS England and Improvement award was Karen Pearson, Public Health England.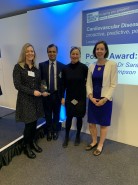 The winner of the delegates vote poster award was Anne Burrows, Public Health England. 

All poster presentations presented at the conference can be found below:
Using data to save lives: the example of CVD and RAIDR
Livewire Liverpool Health Trainers
KSS AHSN Alliance for Atrial Fibrillation
The Cardiovascular Disease Prevention Resource Pack: A menu of evidence based interventions for London
Telford Healthy Hearts
Education inequalities in treatment to prevent cardiovascular disease: clinical and genetic assessment
Profiling the cardiometabolic risk in men in a long stay prison in Wales
Can the indicators no longer in QOF (INLIQ) be used to assess CVD prevention?
"Mind the Gap" Reducing the detection gap for atrial fibrillation (AF) in Mental Health using quality improvement and innovation methodology
The benefit of opportunistic screening at Know Your Pulse community-based events to identify people with undiagnosed AF
"That's the first time that someone's actually told me what my blood pressure actually is": Tackling high blood pressure in Cheshire and Merseyside through community blood pressure checks & lifestyle advice
GTT@home - Home Oral Glucose Tolerance Test. An alternative to clinic visits
Atrial Fibrillation Advance Programme
RightCare Toolkit for Physical ill-health and Cardiovascular Disease prevention in people with severe mental illness
Pharmacist Led Hypertension Review Project in Black (African or African-Caribbean origin) Patients
Haringey and Islington Blood Pressure Testing with Voluntary and Community Sector Organisations
Stroke Prevention in Atrial Fibrillation (AF) Detect. Protect. Perfect.
Using Social Marketing to Reach a Target Audience
Whole System Approach to Working at Scale: Tackling Cardiovascular Disease in the North of England
Re-engaging digitally with non-responders: An analysis of key findings from the Southwark Digital Health Check tool pilot
Optimisation of cardiac medications...for patients attending cardiovascular and heart failure rehabilitation
Improving population health outcomes using NICE quality statements on cardiac rehabilitation
Introducing lifestyle prevention to the UK Family History Clinics: The Family History Lifestyle Study
Polygenic scores, risk and cardiovascular disease
Reducing Cardio-Vascular Risk in Type 2 Diabetes An Audit of Statin Prescribing in 4 GP Practices in Brighton and Hove (B&H) CCG
Implementation of the Cardiovascular Assessment Screening Program (CASP) in Canada: Results of an RCT
Working with partner to build CVD prevention messages into Restart a Heart Day
Personalised and proactive CVD Prevention: NHS Health Checks and Integrated Lifestyle services in East Sussex
REACH- HF BEACON SITE PROJECT: DEVELOPING AND EVALUATING A NETWORK OF PRACTICE FOR THE IMPLEMENTATION OF HOME-BASED HEART FAILURE REHABILITATION ACCROSS THE UK
Asset Based Community Development Approach to Diabetes Prevention & Weight Management in South Asian Women
A Strategy Fit for the Future: The West Midlands Co-Production approach
Cardiovascular disease prevention in the 2020's
Last updated: 17/03/21